AFRICA! Capetown is the fun loving city below Table Mountain; sunny and friendly. Plekkies is in Somerset-West, a town set against the Hottentot Holland Mountains, on the Cape Wine Route. Easy access to all the tourist attractions, Plekkies is 20 minutes from Capetown International airport, 30 minutes from Capetown centre and 5 minutes from the beach!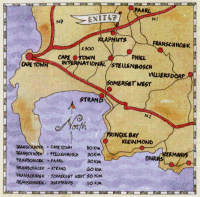 - - - - - - - - - - - - - - - -
What's nearby?
The Cape beaches offer a variety of sport sorts, ranging from board-sailing at Blouberg-Strand to surf boarding at Kogel Bay. But for safe supervised swimming, you are less than 5 minutes from the Strand beach, which apart from the crisp water and soft sandy beaches, offers putt-putt, and water slides, craft markets, restaurants and take-aways adjacent to the beaches. Somerset West is on the Cape Wine Route, so you are only minutes away from world-class wine estates. The estates are well worth visiting, some providing picnic facilities, and often host theatre, art exhibitions and even small game. If you enjoy the outdoors, there is a vast selection of gardens, walks, golf estates, mountain trails, all within minutes of your stay. If that's not enough for you, then 10 minutes away is a small airport where aerial shows are held, and where you can arrange for flights around the Cape Peninsula. And of course, you will have to visit friendly Capetown where the world famous Waterfront complex is situated along the Victoria Dock. For your thrills and spills, Ratanga Junction is a full day out for the family, with The Cobra roller coaster an absolute must for the adrenaline junkie.